Ever since I saw the girl on Shear Genius bust out a Metamorphose skirt with a tank and cardigan, I've been obsessed! I'm not saying I'm obsessed with her choice of skirt or hair or even her for that matter, I just liked the combo. I really liked how she incorporated lolita into her every day with out it looking retarded. So I went on to do the thing I do best when I get excited about clothes and began fixating on various "brand" sites. I did this until I decided on a set that looked like something that I could sport daily and also something I could wear to a more fancy event.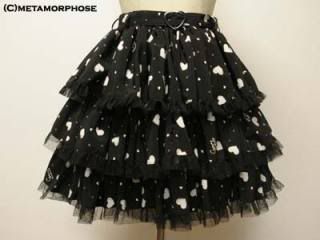 and this to match...
and this for the hells of it. I love love love hoodies...
Cause I'm gonna wear it with jeans and converse, soo hwhat! Here's hoping it looks as good in person and doesn't suck!! Once again, I've realized I still like Metamorphose more than any other brands. It's weird to me because when they're good they're great and when they're shitty they're extremely shitty!